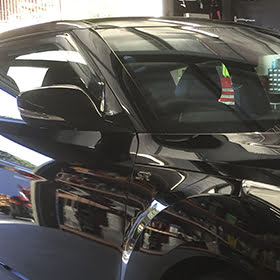 Ceramic Pro Rain Advanced Automotive Glass Protection
Ceramic Pro Rain is a world-class, super hydrophobic glass protector. The Nano-Ceramic coating was specifically formulated for glass and provides an invisible protective layer that repels water and rain even at high speeds. Glass surfaces that are coated with Ceramic Pro Rain are super slick, allowing rain and grime to simply bead and run off the glass, it also has anti-icing properties for further protection against the elements. The hydrophobic coating is glossy and durable and does not hinder the motion of window wipers in any way.
After professional application of Ceramic Pro Rain, your windows will stay cleaner for longer and visibility is improved in the harshest conditions. Ceramic Pro Rain is an investment that not only protects your glass but adds value to your vehicle. Our experts at Nano Coatings Central Coast, are approved applicators and offer professional glass protection for old or new automotive, aircraft and marine vehicles. This product can be applied to glass and metal and fills scratches and scuff marks, leaving your vehicle looking brand new.