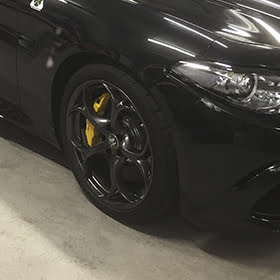 Superior Wheel And Caliper Protection
Brake-dust buildup is predominantly iron and occurs due to the grinding action of the cast iron brake rotor and the brake pads. Brake-dust is very corrosive and will eventually damage and etch the finish on your alloys if not cleaned regularly. Ceramic Pro Alloy Protection is based on an advanced Nano-Ceramic formula that not only protects but prevents brake-dust buildup and makes wheels easier to clean. The ceramic coating forms a permanent adhesion to all surfaces and requires no maintenance or reapplication. This advanced protective treatment not only offers superior alloy protection but adds value to your car, van, truck, caravan or mobile home.
Our approved applicators can apply Ceramic Pro Alloy Protection to your vehicles' wheels and calipers in our modern workshop, at very competitive prices. Nano Coatings Central Coast will beat car yard prices for alloy rim protection by up to 50% and guarantee that our treatment will outlast any car yard protection available.
Ceramic Pro alloy rim protection is designed to withstand extreme conditions including heat, chemicals, dirt and brake-dust and forms a protective shield against damage. If you want your rims to shine like new all the time, give our team at Nano Coatings Central Coast a call to discuss your needs and obtain a quote.